Content is the KEY. Content is the KING.
Content is your communicator. Content should be your strength to compel your audience, making readers read more and explore more until it is finished. And then, 'DO and ACT' what you want them TO.
Bitrixa offers a variety of writing services to fit your needs. Here's what we have to offer to YOU: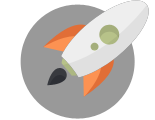 We're Here To Help Your Business Blast Off!
Through Creative Ideas, Innovation & Sheer Determination