We offer affordable yet exceptional Testing & QA services while adhering to the highest quality of testing standards. Our varied skills include White box, Web Services, Functional, Automation, and Performance testing using a variety of test tools. Our client-centric QA Strategy ensures optimization through reduced testing overheads, augmented efficiency, improved testing processes and enhanced Test Quality.
Bitrixa can be your best testing partner. We offer the widest range of services in the software testing industry. We provide over 28 software testing services including mobile testing, web testing, offshore testing, and more.
Our testing & QA service is going to exceed your expectations for sure as we have 100% certified testers from around the globe who have enormous experience. Our independent software testing services blend industry know-how with consulting expertise to help you improve application quality, performance, and reliability across your software projects. We have successfully completed more than 2000 projects.
Our Testing Services
Component & Unit Testing
Core Testing Services
Database & Platform Testing
Functional Testing
Localization Testing
Security Testing
SOA & Web Services Testing
System Testing
Usability & Content Testing
Our Expertise
Manual Testing: Functional, GUI, Regression, Usability Testing, E2E, Database, ETL & Compatibility Testing
Test Automation: In-house CoE developed Accelerators & Frameworks, Centralized Execution and Live Monitoring & Reporting tools
Performance Testing: Performance Design, Prediction, Testing, Monitoring & Diagnosis, Load, Failover, Soak, Stress, Performance, Network & Volume
Mobile Testing: Support for IOS, Android, Symbian, BlackBerry & Win Phone 7, Specialization in Native, Web & Hybrid Apps Testing on Remote environment
Specialized Testing: Domain focused testing, Risk-based, Behavior, Model-based & Cloud Testing, Network & Security Testing
Key Technologies:
Quality Center, XStudio, TFS, JIRA, BugZilla, Mantis, Remedy, QTP, Silk, Selenium, CodedUI (VSTS), LISA, LoadRunner, RPT, JMeter, OpenSTA, ExperiTest, FoneMonkey, QTP M-Eux, Custom Harness, Cloud – SOASTA
Managed Testing Services
Value Proposition Managed Testing Services
Dedicated test centers for customers
Testing lines with tools and technologies
Defining the test framework
Creating a test harness
Creating test scripts and test data
Defining the reporting mechanism/system for test runs
Carrying out test runs in various environments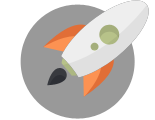 We're Here To Help Your Business Blast Off!
Through Creative Ideas, Innovation & Sheer Determination